Process of Rental
Enjoy Kimono in Kyoto!Just bring yourself&Return by 17:30pm
Reservation & Access
075-354-9110
Online Reservation or by phone. Once you make a reservation online, you will firstly receive an auto-reply e-mail and then our confirmation notice of your appointment. (If you do not receive either of them, please contact us.) You can find our store in 3 minutes on foot from city subway "Gojo Station".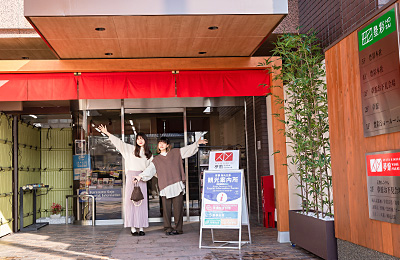 Choosing a kimono
…takes about 20~30mins
Once checked in at the reception, you will start choosing your kimono. Over 500 pieces are awaiting for you! Feel free to mix & match the obi belt with a kimono. If you need some advice, please let our staff members know. Men's kimonos are also provided.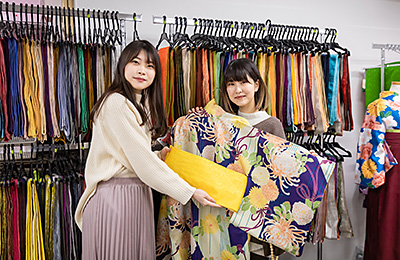 Dressing
…takes about 20mins
Getting dressed by professional dressers, you can enjoy roaming around the street and dining comfortably wearing kimonos. Your kimono will not get out of shape if you move regularly. You will get dressed in a blink of time.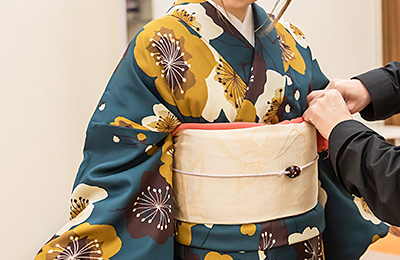 Optional(reservation required)
Hairstyling
…takes about 20mins
A basic plan (8 styles available), a customized plan, or a traditional Japanese hairstyle plan are provided.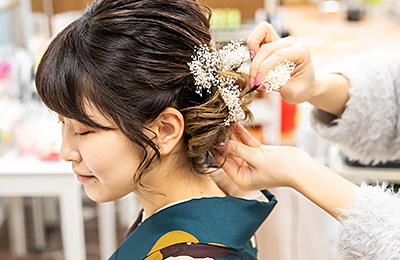 Optional(reservation required)
Make Up
…Done together with the hairstyling
A simple makeup starting from the skin foundation.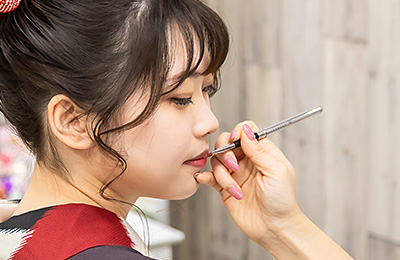 Optional※This service is currently not available
Studio Photography
…takes about 10mins
We recommend you to get your photo shoot at our studio for unforgettable memories. You can get the photo on the same day!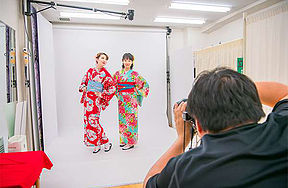 Get more information
at our Information Centre♪
You can collect tourist information such as events held in Kyoto on that day or places with discounts for admission in kimonos at the "Tankokan Office" on the first floor of Mengkan! It also provides transportation information from Mengkan to sightseeing spots and recommended shops. ♪ We also provide services such as mobile phone charging, foreign currency exchange, and the sale of Japanese umbrellas and Miju seals.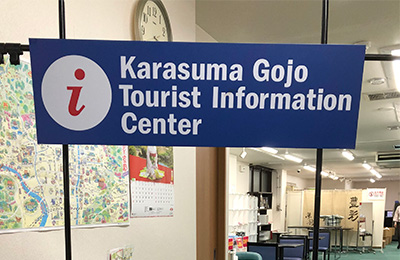 Departure!
Return to Yumeyakata by 17:30!
Once getting ready, let's depart from the store. Take your time and enjoy Kyoto. There is optional plan for returning on the next day.
An optional location photo plan (reservation required) is also highly recommend you!