京都着物レンタル夢館
1/28~2/4【MK×Yumeyakata】Miyama Kayabuki-no-sato Snow lamp tour

Yumeyakata X MK Taxi Collaboration!
A special tour during 28 Jan~4 Feb to visit Snow Lamp"yuki-tourou" at Miyama Kayabuki-no-sato!!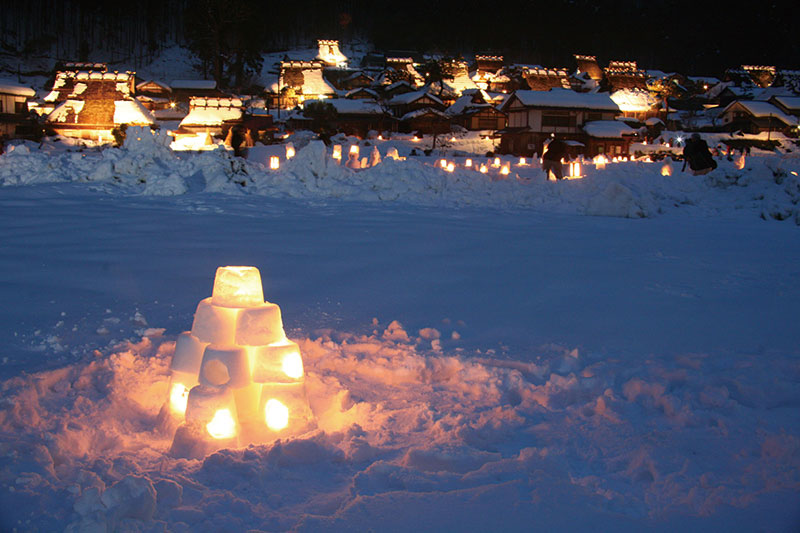 A tour planned by MK Taxi, of course by taxi and bus♪ (* '∀ `*)
In addition, Kimono rental also applies with set and there is a gift for this special tour.
Charming Point of Snow Lamp"yuki-tourou" at Miyama Kayabuki-no-sato
The charming point of Miyama · Kayabaki-no- Sato※ is the house covered by traditional Japanese roof (Kayakiyane) which still remains. ※It was selected as a preservation district of the important traditional buildings of the country in December 1993.
Surrounded by mountains and fields, the houses of the roof of a thief lining rows close to each other is exactly the original landscape of Japan.
I remember nostalgia as if I came back to my hometown.
And in winter, covered with pure white snow, it creates a beautiful snow scene.
In addition, during the "snow lamp light up" where the tour is held, the houses of the roof-top are lit up, and the snow lamp lights up the snowy surface warmly.
Should be entranced with fantastic and romantic scenery as if it came into the story!
If you take pictures with kimono in back with such beautiful scenery, you will surely be a wonderful memory (* '艸 `*) Please use also kimono rental.
Tips for keeping warm in kimono!
Usually we wear socks and zouri in kimono, If you want to have a stroll in snow,
we recommend you bring your own boots!
It's not only warmer but retro and lovely!
If you want to wear your own shoes, please told the staff when dressing up.
(Yumeyakata do not provide boots rental.)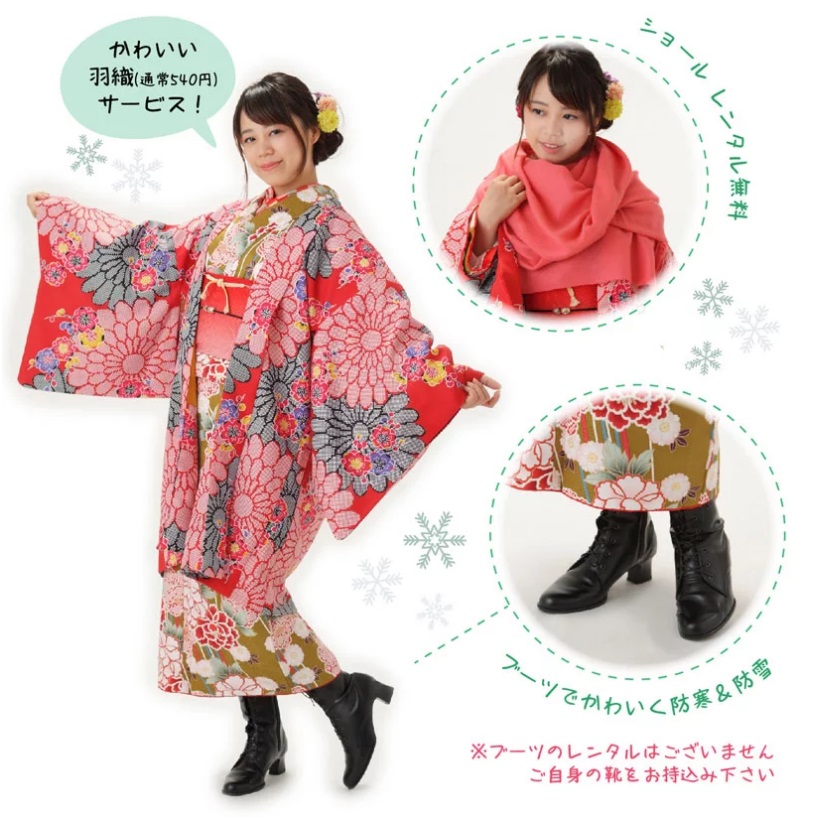 You can bring a hand warmer or shoulder too!
we provide shoulder for free and haori(kimono jacket) for 500 yen rental.
official website:
Phone:075-757-6212
tour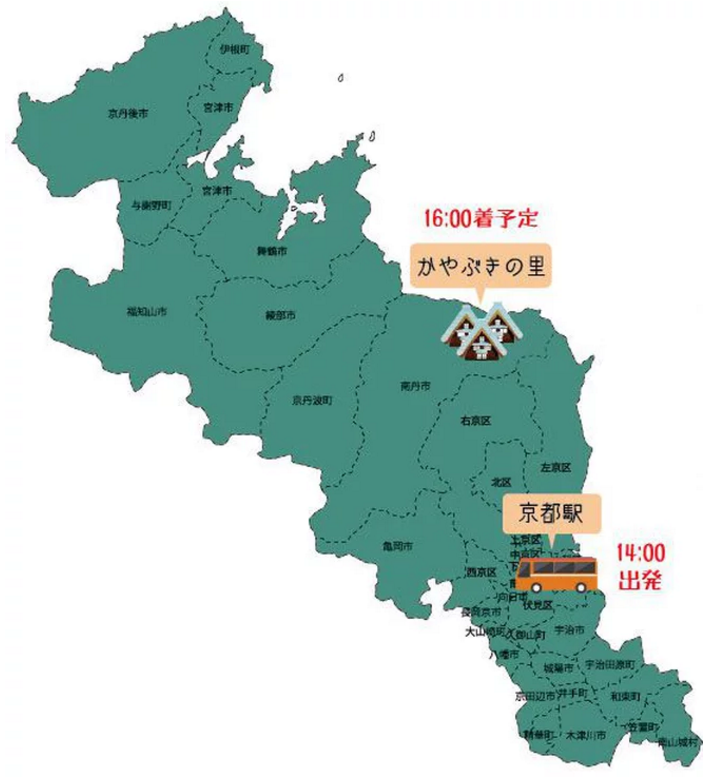 <tour> 
14:00 kyoto station departure(bus)
16:00 miyama
16:30~19:00 「Snow Lamp」
21:00 kyoto station arrive
<price>※with Tax 
【Tour】6,000 yen/per
【kimono rental】(option)
kimono rental…3,780 yen/per
hair styling…1,620 yen/per
<Yumeyakata special !>
◎「haori rental」usual price 540 yen→FREE
◎「overnight return」usual price 1,080 yen→FREE
<kimono rental time>
10:00、10:30、11:00、12:00、12:30
Bus is departure at 14:00 from kyoto station, you can have free sigh seeing before 14:00.
<How to return>you can choose between these two
1.Change back your clothes right after get off from the bus and rerurn in hajijoukuchi.
2.Return the next day in present to Yumeyakata.
<How to book>
Check MK's offical website on
http://www.mktaxi-japan.com/
or call for reservation
075-757-6212
<NOTICE>
・The price is not included meal and other private fees.
・Depends on traffic and wether, the departure and arrive time might be different.
・There is no guide for this tour.
・If the apply is less the 7 people, the tour would be cancel。
・You cannot assign to have bus or mini bus for 9 people.
・online apply is until 17:00 in 3 days before aparture.
<Pay>
・Credit card
・Contact with MK
<Cancel fees>
・11 days ago…NO Cancel fees
・10 days ago…20% of the tour fees
・7 days ago…30% of the tour fees
・1 days ago…40% of the tour fees
・the appointed day…50% of the tour fees
・after tour start…100% of the tour fees