京都着物レンタル夢館
Benefit for Beauty, Kawai Shrine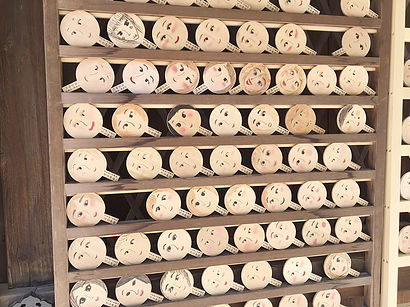 If you are to wear Kimono (着物), please visit Kawai Shrine (河合神社), a sub-temple within Shimogamo Shrine (下鴨神社). We say this because the Kawai Shrine is famous as responsive to prayers for beauty. It's our eternal wish, isn't it?
So, please be sure to ask for your beauty to the god, if you visit there. You might as well purchase a Kagami-ema (鏡絵馬, a votive tablet to make a wish) and put a makeup on it with your own cosmetics (see the picture above). They say that the prettier your Kagami-ema is, the more beautiful you will be.
Isn't it a nice idea to take a picture in front of the Ema shelves in pretty YUMEYATAMA's Kimono?
Shimogamo Shrine URL:
http://www.shokoku-ji.jp/k_about.html
Access:
3 min. on foot from Demachiyanagi station of Eizan line.
Akane Kibune
Kyoto Expert Certification 1st Grade