京都着物レンタル夢館
KYOTOGRAPHIE Kondaya Genbey Site
Currently, We YUMEYAKATA present a collaboration program with KYOTOGRAPHIE, International Photography Festival, with which users can enjoy watching photographic arts at many venues in Kyoto, while wearing beautiful Kimono (着物). How about that?
I visited the festival to see the Kondaya Genbey (誉田屋源兵衛) site, an authentic Obi (帯) manufacturer in Kyoto established 280 years ago. The building of Kondaya Genbey is a magnificent Machiya (町家, Japanese traditional houses), and the ambience there was so like Kyoto and wonderful. At Kurokura (黒蔵), a warehouse in the premises, an exhibition titled "Freedom in the Dark" by Benjamin Millepied was conducted, and at Chikuin no ma (竹院の間, bamboo chamber), "Shunga and bi (春画と美, Shunga and beauty)". Both were very artistic and I enjyoed them a lot.
Not so many people were interested in Shunga until recently, however, due to its highly artistic beauty, Shunga is gaining enormous popularity nationally and internationally. I can reccomend to visit the site to my readers.
Of course, if you wear Kimono, it will be wonderful!
KYOTOGRAPHIE, International Photography Festival
Date: 2019.04.13-05.12
MAP:
https://www.google.com/maps/place/%E3%80%92604-8165+%E4%BA%AC%E9%83%BD%E5%BA%9C%E4%BA%AC%E9%83%BD%E5%B8%82%E4%B8%AD%E4%BA%AC%E5%8C%BA%E7%83%8F%E5%B8%BD%E5%AD%90%E5%B1%8B%E7%94%BA%E5%AE%A4%E7%94%BA%E9%80%9A%E4%B8%89%E6%9D%A1%E4%B8%8B%E3%82%8B%EF%BC%94%EF%BC%98%EF%BC%99+%E8%AA%89%E7%94%B0%E5%B1%8B%E6%BA%90%E5%85%B5%E8%A1%9B/@35.007969,135.757837,16z/data=!4m5!3m4!1s0x600108849240d5e3:0x2616c680ab598884!8m2!3d35.007969!4d135.7578368?hl=en
<Kimono rental & passport>
*Extra discount for students
Please click here for more details.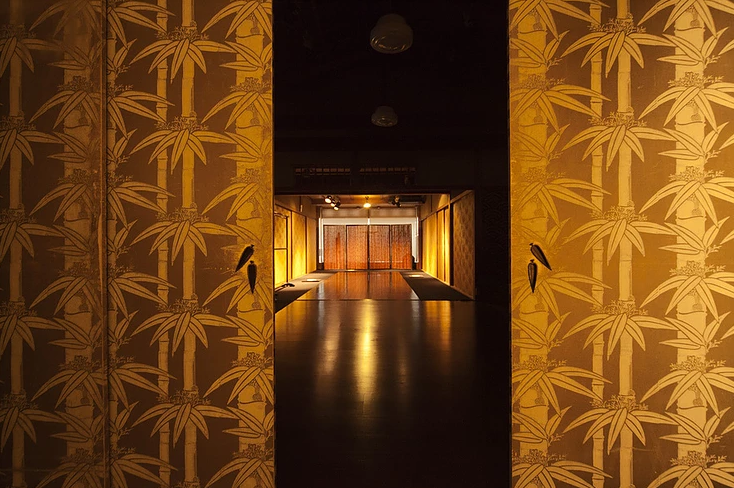 Akane Kibune
Kyoto Expert Certification 1st Grade