京都着物レンタル夢館
Mukaegane (Sacred Welcoming Bell) of Rokudo Mairi (Six Realms Pilgrimage)
During Oban (お盆, the season during which ancestral spirits are said to be returning), the sacred bell is tolling all day long at Rokudo-chinno-ji Temple (六道珍皇寺). Over the centuries, the area around the temple had been a place for burial rites, and still is said to be the boundary between this life and eternity.
Early in the morning, a queue is made at the temple by many Kyoto residents, waiting for the turn to ring the bell to greet their Oshorai-san (お精霊さん, ancestral spirits), and the bell is the cue to let Oshorai-san know the time to come back to the house of their family members.
As seen in the picture below, the bell is rung not by striking, but by pulling a rope. The sound is said to reach as far to the Pure Land which is tens of millions of miles away from this world. It also makes us remembering our beloved family members who passed away long time ago. My grandpa, my grandma, who cherished me so much all the time…
Rokudo-Mairi is a special and important tradition in Kyoto.
Akane Kibune
Kyoto Expert Certification 1st Grade
MAP:
https://www.google.com/maps/place/%E5%85%AD%E9%81%93%E7%8F%8D%E7%9A%87%E5%AF%BA/@34.998396,135.775464,16z/data=!4m5!3m4!1s0x0:0x47b0e299e255ff6c!8m2!3d34.9983955!4d135.7754641?hl=en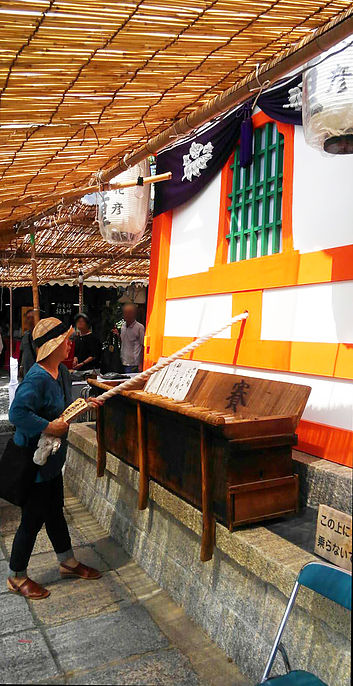 #Kyotoexpertcertification #kimono #Japaneseculture #templesinKyoto