京都着物レンタル夢館
Off the Beaten Path Gojo Walking Tour in Fresh Greenery
It's already May, the season of fresh greenery and balmy breeze. Aside from gorgeous cherry blossoms and scarlet autumn foliage, fresh greenery is truly one of the symbols of Kyoto. This is my favorite season!
The picture below is from the Off the Beaten Path Gojo Walking Tour by us, YUMEYAKATA. Please take a look at those shiney cascading green leaves. It's so beautiful.
Young leaves are making a tunnel over the Takase river (高瀬川). With the reflection of the ray of the sun, the scenery is just like a piece of art. Looking at the picture, the moist scent of swinging leaves are almost back in my nose.
Please join our walking tour, and feel the rich nature of Kyoto.
Akane Kibune
Kyoto Expert Certification 1st Grade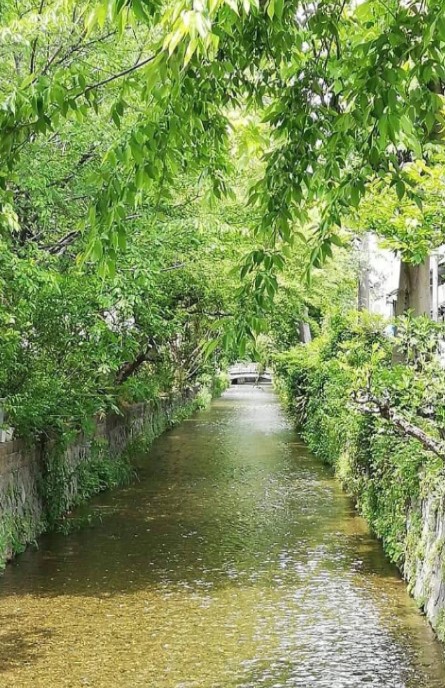 Off the Beaten Path Gojo Walking Tour produced by Akane Kibune
https://www.kyoto.yumeyakata.com/walking-tours
Overview:
Let's enjoy the round of visits to hidden sites with interesting histories and stories within Gojo erea where Yumeyakata is located. In the course, the guide will show you so many picturous spots as well. Please get a special offer by renting YUMEYAKATA Kimono.
Required time: about 2 hours
Date: YUMEYAKATA business days *Prior reservation reqired.
Time: 1:00 pm at YUMEYAKATA (Depart at 2:30pm)
Age: 12 or older
Minimum participants count: 2ppl (up to 10ppl)
*A tour can be conducted for only one participant by making double payment.
Fee: If you rent a Kimono from us, for a group of 2 ppl, 3000yen/person. For 3 ppl, 2500yen/person.
*Kimono rental fee is separately required.
If you do not rent, for a group of 2 ppl, 3500yen/person. For 3 ppl, 3000yen/person.
Reservation form:
https://kyoto-yumeyakata.com/script/mailform/kimono-sanpo-jp/