京都着物レンタル夢館
OMOKARU (Light or Heavy) Stone at Fushimi Inari Taisha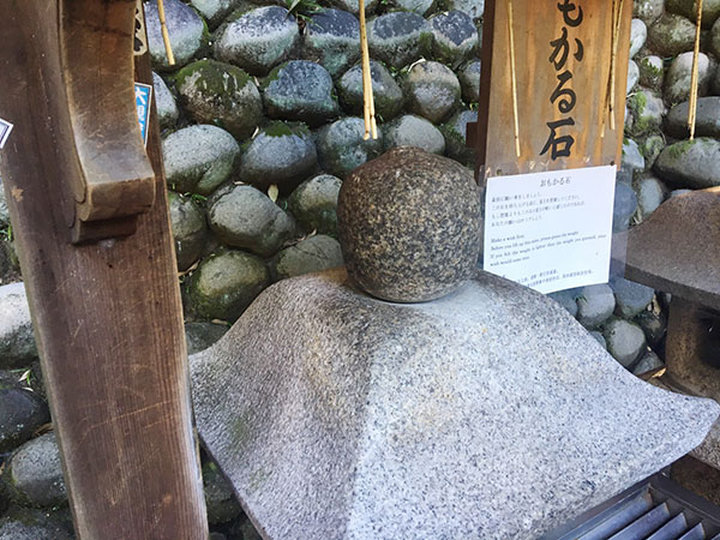 Fushimi Inari Taisha (伏見稲荷大社) a is a world famous shrine in Kyoto, crowded everyday with visitors including those who from overseas, all enthusiastically praying for their prosperity. After climbing all the way through the famous Senbon Torii (千本鳥居, a corridor of thousands of red torii), you arrive at the Okusha Hohaisho (奥社奉拝所, Prayer building), and a stone called "Omokaru Ishi (おもかる石, light or heavy stone)". The stone has become so famous that you have to wait to see it. Even so, I recommend waiting in line because this stone is said to have enormous power.
As you approach the stone, please make a wish and then lift the ball-shaped stone at the top with your bare hands. If you feel it's lighter than you expected, your wish will come true. If it's heavier, well, it's not meant to be…
But please don't worry. You can come back any time and try it again another day! Please give it a shot!
URL:
http://inari.jp/
Access:
7 min on foot from Inari Taisha Mae, Kyoto city bus "south No.5"
5 min on foot from Fushimi Inari Taisha station, Keihai line
Within 1 min on foot from Inari station, JR Nara line
Akane Kibune
Kyoto Expert Certification 1st Grade
#KIMONO #templesinKyoto #BeautifulKimono #exhibition #kyotoculture #Kyoto