京都着物レンタル夢館
Wagasa (Japanese Umbrella)
What if your dream trip to Kyoto finally came true, and it turned out raining…
It's natural to feel blue but please don't worry. YUMEYATAKA offers a varieties of rental Kimono (着物) and you never have to worry about the maintenance of it!
In Kyoto, some gardens are really picturesque especially on rainy days. When going out in the rain wearing Kimono, we wear Wagasa (和傘, Japanese umbrella) made of Washi (和紙, Japanese craft paper), namely, Gokayama-washi (五箇山和紙) from Tomaya (富山) prefecture, Minoh-washi (美濃和紙) from Gifu (岐阜), and Echizen-washi (越前和紙) from Fukui (福井), etc. To make Wagasa water repellent, those papers are coated with oil.
Since the price of Wagasa are usually expensive, and its maintenance is time-consuming, Wagasa is no longer common. The chances to see those Wagasa are limited only in movies or theater plays nowadays. However, there is an exception. In Hanamachi (花街, Maiko and Geiko district), Wagasa is still commonly used.
Lately, Wagasa-like umbrellas made of chemical fabrics are on the market. When you wear Kimono, and if it rains, it's a chance to try this kind of products. We YUMEYAKATA Information Center offers these easy-to-handle Wagasa at low prices. Please stop by before you get soaked in the rain.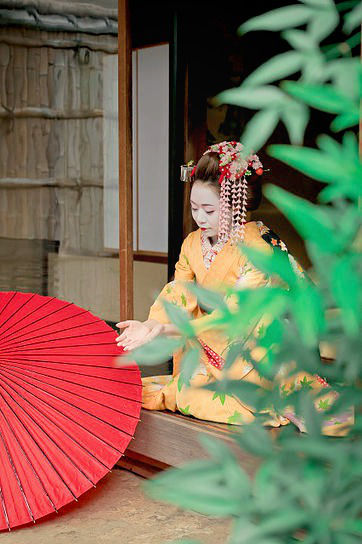 HANAMACHI*: districts where MAIKO and GEIKO reside.
#KIMONO #BeautifulKimono #kyoto #kyotoculture #Japanesecraftwork