京都着物レンタル夢館
A bride in a white wedding gown with a long beautiful veil is always a girl's dream. In Japan, traditional wedding attire, such as Shimomuku (白無垢, Shown in the 2nd picture), Iro Uchikake (色打掛, Shown in the 3rd picture), and Hiki Furisode (引き振袖, Shown in the 1st picture), are reviving their popularity.
Shiromuku, which means "pure white", was originally a wedding clothing only for brides from Samurai (侍, the military nobility and officer class people of early-modern Japan) clans or wealthy merchants in the Heian (平安) to Muromachi (室町) Period. Wataboushi (綿帽子, a head dress for Shiromuku. Shown in the 2nd picture) has its origin in the custom of the Heian period that women to pull up their outer jacket over their heads at the time of outing.
Iro Uchikake is gorgeous outer robe over Kimono and was a formal style for ladies from Samurai clans in the late Muromachi to the Edo (江戸) period. Later, it also became popular among wealthy citizens and farmers.
Hiki Furisode, a long sleeved Kimono with a long train, became popular as an wedding costume in the late Edo period, usually worn with a head dress called Tsunokakushi (角隠し, a rectangular piece of cloth, which covers the bridal high topknot, worn to veil the bride's horns of jealousy, ego and selfishness). In the Taisho (大正) and the Showa (昭和) period, Kuro Biki Furisode (黒引き振袖, black Hiki Furisode) was the most popular costume for wedding.
Click here to see a Blog by a Former MAIKO, "Do You Know?"
YUMEYAKATA OIKE Bettei Wedding plan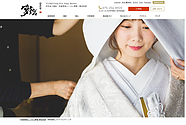 YUMEYAKATA Oike Bettei branch offers the exclusive wedding plan. A set of gorgeous wedding costume, photo shoot by a professional photographer, hair set and make up, are all included in the package. Please enjoy your once-in-a-lifetime dream experience at our luxurious and classic Kyoto style villa.
Wedding Location Photography Package
Location photo shooting in gorgeous wedding costume, having the beautiful scenery of Kyoto in the background. We offer various courses of the location.