京都着物レンタル夢館
Yuzen Nagashi (Washing Kimono Silks in the River)
In Kyoto, surrounded by mountain ranges from three directions, run many beautiful rivers from the north to the south. In the old times, people utilized the clear water from the mountains for a dye-art technique called Yuzan Nagashi (友禅流し), or washing kimono silks in the river to remove the masking paste and excess dye in the process of hand drawing on silk. The Kamo river (鴨川) was once famous for this traditional practice.
Other than the Kamo river, the sceneries of Yuzen Nagashi used to be seen on many rivers in Kyoto, such as the Katsuragawa (桂川), the Horikawa (堀川), the Shiakawa (白川), and the Kamiyagawa (紙屋川). However today, the traditional scenery of Yuzen Nagashi can be seen only at the time of festival events, since the process is now considered as a source of water pollution.
Yuzen Nagashi reminds me of a movie called "Yoru no Kawa (夜の河, The Night River)", which describes the world of old Kyozome (京染め, Kyoto style dye silks), with the stories of Kyozome stores once stood in a row along the east side of Horikawa river.
When I was a Maiko (舞妓) trainee, I often came across washers in the river on the way back from my Maiko lessons. Holding bamboo poles wrapped with colorful fabrics in their hands, their consistent movement of washing made me realized what it is like to be a professional. I felt their faith in dye art, and felt myself a new as well.
Click here to see a Blog by a Former Maiko "Do You Know?"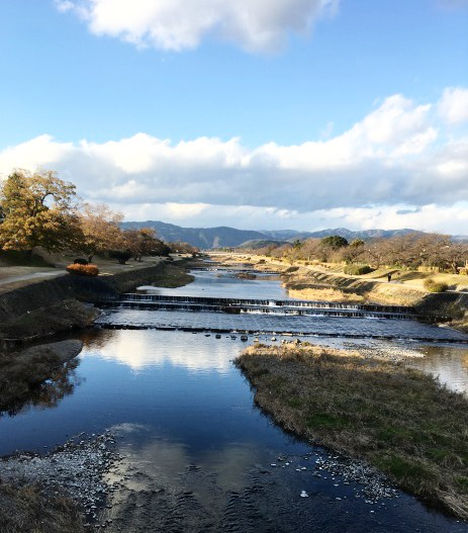 #Japanesecraftwork #Japaneseculture #BeautifulKimono #kimono #kyotoculture