京都着物レンタル夢館
10 Minutes Mont Blanc Cake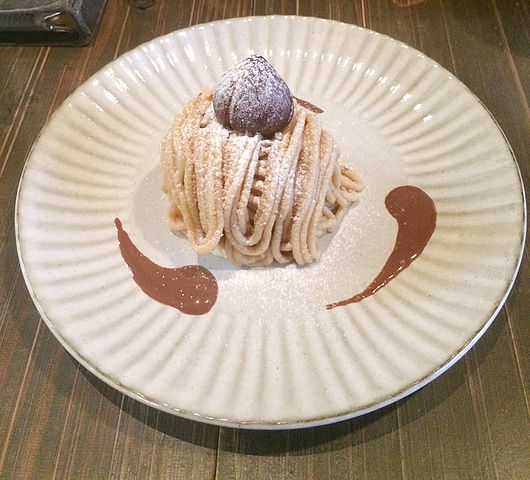 The other day, I visited a confectionery store to try a cake I had been curious about since I saw it on TV.
The store is located at the Kyoto Sanjo Shopping street (京都三条商店街), which has a length of 800 meters, and is actually the longest shopping street in the Western Japan. From the old days, people say, "whatever you want, you find it there". Ranging from fresh food to daily commodities, the street provides with everything and is closely connected to everyday life in Kyoto. In addition, stylish and fashionable cafes and general stores in renovated Kyo-Machiya (京町家, old traditional Kyoto-style houses) buildings have been gaining enormous popularity among the young generation and sightseers.
In this shopping street, the confectionery "Kyoto KEIZO" offers a cake called "10 Minutes Mont Blanc". This may surprise you, but the cake is named after its freshness duration which is only 10 minutes!
The feature of the cake is its crisp texture created by many pieces of meringue mixed into cream. The crispness lasts only for a few minutes and that's where the name of the cake comes from. The pride of craftsmanship is admirable.
The taste is not too sweet and so delicious that I finished my cake almost instantly. There were many other lovely kinds of cakes and dishes. I might as well visit there again for lunch.
Akane Kibune
Kyoto Expert Certification 1st Grade
Access:
7 mins. from Nijo Ekimae sattion, subway Tozai line
URL:
MAP:
https://www.google.com/maps/place/%E6%9D%91%E4%B8%8A%E9%96%8B%E6%96%B0%E5%A0%82/@35.013825,135.767471,14z/data=!4m5!3m4!1s0x0:0x1e86a0dce836c3db!8m2!3d35.013825!4d135.767471?hl=en