京都着物レンタル夢館
A Winter Speciality "MUSHI ZUSHI (Steamed SUSHI Bowl)"

It's been quite cold these days. I always feel an urge to have something warm in such freezing weather. Today, I'd like to introduce you a winter specialty in Kyoto called "Mushizushi (蒸し寿司, steamed Sushi bowl)".
Right around the corner of the Shijo (四条) and the Shinkyogoku (新京極) streets, "Otowa zushi (乙羽寿司)", an long established Sushi (寿し) place, is located. It's not difficult to find the place because there is a huge wooden steamer in front, producing a great amount of steam spreading a sweet scent of delicious Sushi all over.
We, Kyoto residents, really are fond of this Mushizushi (1400 yen plus tax) especially in winter. Underneath the rich layer of Kinshi-tamago (錦糸卵, omelette strips), you'll dig slices of sweetened conger-eel and Shitake (しいたけ) Mushroom on steaming hot rice. It's so delicious and truly worth trying.
URL:
http://www.shinkyogoku.or.jp/store_info/otowa.html
Close:
Close:
Monday (open on National Holidays) , 11:00 am-9:00 pm
TEL:
075-221-2412
Access:
3 mins from Shijo Kawaramachi, Kyoto city bus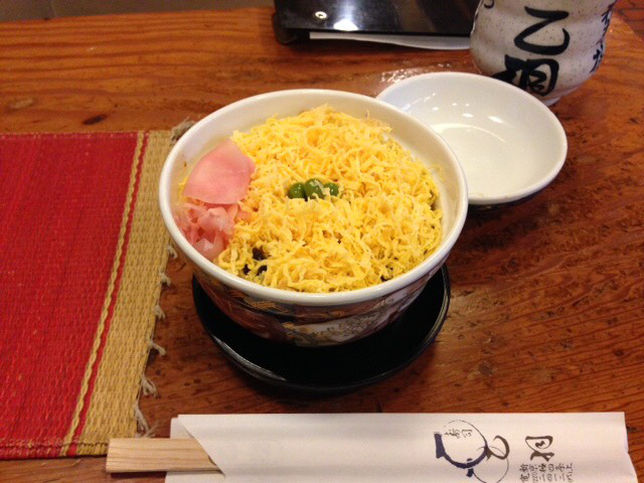 Mushi-zushi 1400 yen plus tax