京都着物レンタル夢館
Fresh Greenery and Moss at Jizoin Temple
Jizoin (地蔵院) temple, built in 1367 by Hosokawa Yoriyuki (細川頼之), the Kanrei (管領, shogun's deputy) of the Muromachi Shogunate (室町幕府), is located in the Nishikyo-ward (西京区) in Kyoto. The temple is known as the place where the famous monk Ikkyū-san (一休さん) spent his childhood. In the neighborhood, other beautiful temples, such as Kokedera (苔寺) temple and the Suzumushidera (鈴虫寺) temple, are located too.
Because of the bamboo forest surrounding the temple, the premises are filled with clear fresh air. That's why the temple is referred to as "Bamboo temple".
In the picture, green maple leaves are swaying in the breeze, reflecting the ray of the sun. Along the path, the soil is the covered with beautiful moss creating a lot of fresh negative ions.
Away from the restless modern world, Jizoin temple will offer you a wonderful opportunity to spend such a quiet time.
MAP:
https://www.google.com/maps/place/Jizoin/@34.990419,135.686025,16z/data=!4m5!3m4!1s0x0:0xb806bd79713b565a!8m2!3d34.9904193!4d135.6860252?hl=en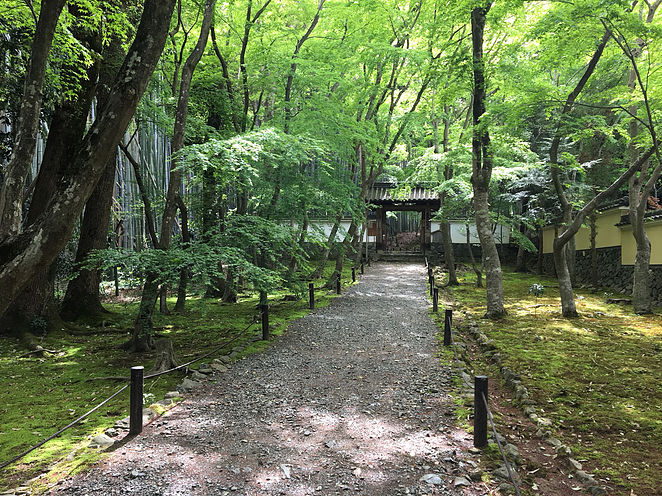 #kimono #Japaneseculture #TemplesinKyoto #BeautifulKimono #kyoto #templesinKyoto