京都着物レンタル夢館
The Summer Ends – Memories of Gozan no Okuribi
Though the weather forecast was not favorable, Gozan no Okuribi (五山の送り火), as known as Daimonji (大文字), the Send-off bonfire on five mountains, has successfully finished.
The completion of Daimonji means the end of summer in Kyoto. The severe hot weather will soon be taken over by the fresh breeze of autumn. For sure, it was cool in this morning.
From the window of my parents house, we had a wide view of Daimonji. Every year they put me in a lovely Yukata (浴衣), and I was always elated jumping out of the house as soon as I heard the commencement of the bonfire from the outside.
In my community, there used to be many elderly people praying in the direction of Daimonji mountain, watching over their ancestors going back to their world. I used to see a group of granpas sipping water during the bonfire. They were trying to swallow the reflection of Dai (大) character in the cup. It was the traditional way of making prayer for paralysis prevention.
The fire of Dai character thrives only shortly, and soon dwindles into ashes. Watching the dying fire used to make me feel somewhat blue, but now that I've grown, I don't feel that way. I just blame it on my youth.
Akane Kibune
Kyoto Expert Certificate 1st Grade
Torii gata (鳥居型)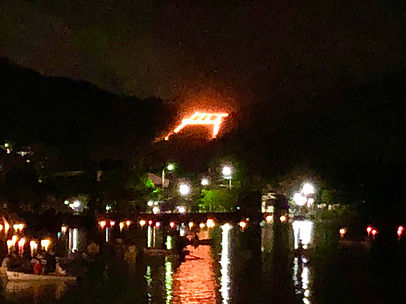 Daimonji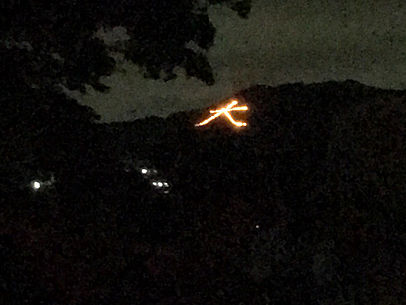 Kyoto City Tourism Association URL:
https://www.kyokanko.or.jp/okuribi/enkaku.html
<Note>
Daimonji Special Campaign is finished. Please look forward to next year!
https://www.kyoto.yumeyakata.com/daimonji